About us

I saw my first Alaskan malamute ever in 1989 while traveling by train with
my friends. A couple with two malamutes joined us in our compartment. Their
dogs were exactly as malamutes should be - they put their big bear heads in
my lap and started to lick me in a friendly way. They loved when I rubbed
behind their ears and wiggled. They fascinated me completely and I wished to
have a wonderful creature like these. I did my homework, trying to find out
everything about the northern breeds. 
I was eager to read all the books of Jack London and attended several 
dog-racing competitions as an excited spectator.
I got lucky on another train ride. I was on my way to another dog-racing
event when I met breeders with a Malamute female and two of her puppies. We
were chatting about everything Malamutes need to live a happy life and about
every other little thing pertaining their breed. In short, on the way there,
I was just chatting.  On the way back, I was a new owner of one of the
puppies. He was a gray-and-white male called Askatchewan Ledová cesta(Icy
Way) "Asky". And this is how my life with northern breeds began.

My friend, Karel, who later became my dear husband, was serving in the army
at the time. When I wasn't working I was alone and had a lot of time to
devote to our Asky. We lived in an apartment in Prague and as everyone
knows, that is not the best place for a Malamute. Even though I used to bike
with him often, he was lonely for the couple hours a day when I was at
work and tore apart everything he could find - from flowers to blankets. I
didn't want to give him up so I got him a girlfriend, Carol Idaho, another
Malamute. This was just six months after I got Asky. Well, now there were
two dogs to tear everything apart. They were not sad and lonely anymore but
the apartment suffered. This went on for five full years. Meanwhile, we
accepted another malamute into our pack - I.Ch.Akéla od Severního slunce
(from the Northern Sun), one Siberian husky - I.Ch.Funny Girl Snowhill´s,
and a Shiba Inu Beverly Jashisa. It became clear that if we want to keep a
pack of this size, we needed to move out of the city. And so it happened...

My first malamutes..(1991)
            

We began to participate in dog-races. My husband was running with our three
malamutes and I used to wait at the finish line. Later on, I started to
attend shows with my youngest malamute, Akéla, together with my Siberian
Funny, and Shiba Beverly Jashisa. Together the four of us gained our
first experience in the show ring and our first titles. Our Akéla was one of
the first Czech malamutes who were responsive and very easy to show with
only a very thin, nearly symbolic lead. He became a very sought after stud
and became a father to many typical malamutes. Among others, these are his
offspring:  I.Ch.Arlon Snìžnická pláò, Ch.Akéla z Kováòské tvrze, Ch.Akim z
Kováòské tvrze, and many other dogs successful in the showring.
           
I was chosen to become an editor of KSP magazine of the Club of Northern
Breeds, Czech Republic, in 1995. I started to devote my time not only to our
dogs but to the magazine as well. Searching for various
photographs, infromation, writing reports from show and racing events was
really enjoyable. I remained involved with KSP for five years until my
three kids (Hynek, Vilém, and Anna Marie) were born. I wanted to spend more
time with them and take care of the puppies born in our family environment
     kids and shiba Beverly Jashisa           kids and Ch.Big Foot Siwash Legend
                                             
In 1998, we imported a dog, Antarctic´ Explorer Xpect No War "Monty",

from the well-known kennel and a female Forti Fortuna Canyon de
Chelly "Sherry" (from Belgium line Cold Valley) from Poland.

These were my foundation dogs for my malamute breed. Monty was very active and gained
numerous titles. Moreover, he gave his offspring typical features of
Staghorn's line. He enriched the Czech Malemutes and even today, his sons
and daughters are a strong competition at the shows. Monty is back with his
breeder Nicol Herman of Antarctic´Explorer  in Belgium now.
Cold Queen Siwash Legend "Queena", are staying with us in our kennel.

Concerning Siberian huskies, I was incredibly lucky to get my first female,
I.Ch. Funny Girl Snowhill´s, from great breeders in 1993. This female was a
wonderful friend of mine. She was very empathic and this helped immensely
not only at the shows where she was shown with elagance and sovereignty, but
also in her willingness to obey while being loose. This amazing quality was
inherited by most of her offspring who can walk next to their owners without
a leash and who are very obedient. Funny gave us a wonderful foundation on
which to build. Her children are not only title-bearers but many of them
engage in typical activities of Sibes, such as mushing, dog-tracking,
weight-pulling, and even agility.


Our goal is not to produce numerous litters but to achieve high quality
breedings, always connected to a certain line or type. Our foremost
priority is the health of our dogs. We never breed to individuals when we
suspect that they could bring health problems to their offspring. All of our
dogs have been tested on HD and PRA.We also care a great deal about
socialization of our puppies. We want them to have proper friendly and
affectionate temperaments. We've been successful in this since our females
give birth always in our house and the puppies are in contact with our three
small children who cuddle and play with them all day long. Our dogs are
true members of our family and inseparable parts of our lives.



We carefully choose future owners of our puppies. We offer them
friendship and service concerning breeding. In return, we ask for an
openness and serious approach towards the puppy which we entrust them
with. We do not support breeding of dogs without papers proving their
origin, puppy brokers, puppy mills, and mixed cross-breeding. 
We feel agreat responsibility for the litters we produce in the sense of 
A.Saint-Exupéry's quotation: "You are responsible for what you tamed and
reared..."
                                                                                      Kristina Slavíková,owner Siwash Legend kennel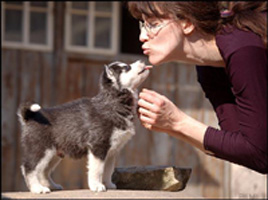 copyright ©2003-2015 Siwash Legend